Book Review: The Undertaker's Daughter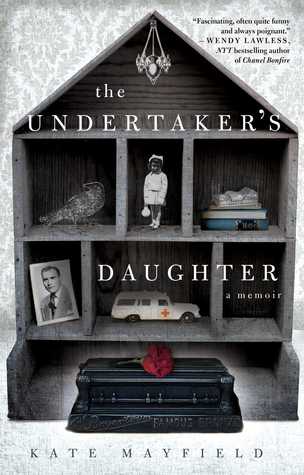 The Undertaker's Daughter
By: Kate Mayfield
Published By: Gallery Books
Publication Date: January 15, 2015
Page Count: 368
Source: ARC Kindly Provided By Publisher
Audience/Genre: Adult Memoir
Buy it at Amazon, Barnes & Noble, or Indiebound.
This lovely and thoughtful memoir opens with beautifully written descriptions of life in a funeral home as seen through the eyes of a child, which is just as fascinating and odd and horrifying as you might imagine. But at the heart of this novel lies the daily struggles, both minor and monumental, both personal and historical, and both hidden and public, that the Mayfield family encounters in 1960's America. Interspersed with sections titled "In Memorium" to eulogize memorable or interesting individuals who passed through the funeral home, this is a quick, engaging read for both historical/literary fiction and memoir lovers alike.
In
The Undertaker's Daughter
, the title (and gorgeous cover) and the morbidity/eccentric nature of the funeral home setting may be the hook, but Mayfield's writing and family story are what keep the reader engaged. Deeply held beliefs about race and class, mental illness, infidelity, addiction, and the perseverance of the human spirit are just a handful of the topics eloquently dealt with in this story that, at times, reminded me of a mash-up of
Six Feet Under
and
The Glass Castle
by Jeanette Walls. The five Mayfields are written with detail and depth that seems to come from a desire to understand and make sense of their lives together.

The vivid secondary characters give this memoir a unique appeal. There is a town eccentric who, for all intents and purposes, is a red dress wearing, gift bestowing Miss Havisham. Additions of characters via the "In Memoriam" sections also add depth to the town of Jubilee, which is a character in itself. Linda, a poor, hand-me-down wearing classmate who drowned in the town pool. The family of four whose father murdered them and then turned the gun on himself. Mr. Foxwood, whose wife stands at his coffin and quietly thanks god for "finally putting this bastard in the ground." Honey Pratt, whose daughters fought over her jewelry eight hours after she passed and The Visitor who came regularly to funerals, without ever knowing the deceased and one day simply disappeared never to return again. This cast of characters gives a welcome respite from the sometimes heavier topics dealt with in Mayfield's own family.

This book is among my favorite memoirs, as much for its interesting subject matter and cast of characters as it is for Mayfield's detailed and engaging writing. Highly recommend.
What if the place you called 'home' happened to be a funeral home? Kate Mayfield explores what it meant to be the daughter of a small-town undertaker in this fascinating memoir evocative of Six Feet Under and The Help, with a hint of Mary Roach's Stiff.

The first time I touched a dead person, I was too short to reach into the casket, so my father picked me up and I leaned in for that first, empty, cold touch. It was thrilling, because it was an unthinkable act.

After Kate Mayfield was born, she was taken directly to a funeral home. Her father was an undertaker, and for thirteen years the family resided in a place nearly synonymous with death. A place where the living and the dead entered their house like a vapor. The place where Kate would spend the entirety of her childhood. In a memoir that reads like a Harper Lee novel, Mayfield draws the reader into a world of Southern mystique and ghosts.

Kate's father set up shop in a small town where he was one of two white morticians during the turbulent 1960s. Jubilee, Kentucky, was a segregated, god-fearing community where no one kept secrets, except the ones they were buried with. By opening a funeral home, Kate's father also opened the door to family feuds, fetishes, and victims of accidents, murder, and suicide. The family saw it all. They also saw the quiet ruin of Kate's father, who hid alcoholism and infidelity behind a cool, charismatic exterior. As Mayfield grows from trusting child to rebellious teen, she begins to find the enforced hush of the funeral home oppressive, and longs for the day she can escape the confines of her small town.

In The Undertaker's Daughter, Kate has written a triumph of a memoir. This vivid and stranger-than-fiction true story ultimately teaches us how living in a house of death can prepare one for life.