Book Review: Fairy Tale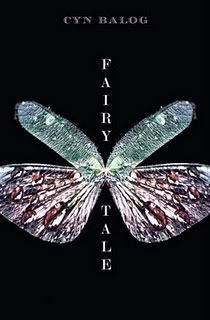 Fairy Tale
By: Cyn Balog
Release Date: June 2009
Source: Library
Summary from Author's Website:
Morgan Sparks and Cam Browne are a match made in heaven. They've been best friends since birth, they tell each other everything, and oh yeah- they're totally hot for each other.
But a week before their joint Sweet Sixteen bash, everything changes. Cam's awkward cousin Pip comes to stay, and Morgan is stunned when her formerly perfect boyfriend seems to be drifting away.
When Morgan demands answers, she's shocked to discover the source of Cam's distance isn't another girl- it's another world. Pip claims that Cam is a fairy. No, seriously. A fairy. And now his people want Cam to return to their world and take his rightful place as Fairy King.
Determined to keep Cam with her, Morgan plots to fool the fairies. But as Cam continues to change, she has to decide once and for all if he really is her destiny, and if their "perfect" love can weather an uncertain future.
What is Everyone Saying?:
"Morgan's distinctively funny voice and the touching three-way romance will make this a popular addition to the urban fairy romance market." — Booklist
"A fantastic debut that will consume you and hold you captive." —
Ravenous Reader
"This book is good . . . A compelling, romantic, surprisingly funny story." —
Kidliterate
What would you do if you woke up one morning and your perfect life was starting to unravel? Everything that you thought would always be a constant is ripped away from you in a single instant. This is exactly what happens to Morgan Sparks on the eve of her 16th birthday. She thinks this is supposed to be a magical day and in truth it will be, but not in the way she wants because Morgan finds out that her long time boyfriend, Cam, is a fairy king. Morgan is determined to not let this come between them, but does she have a choice? To make things even more confusing Pip enters the picture. Pip is the baby that was born to the Browne family, but he was stolen by the fairies and Cam was left in his place. Pip has lived his entire life amongst the fairies and has a lot to learn about humans. Morgan is given the task of helping him make the transition so that he can take Cam's place. Does she have the strength to do that? Can she truly let Cam return to the land of his birth? This story is one of how heartbreaking and romantic first loves can be.
I loved this book. It is now on my list of favorites! I loved watching the characters of Morgan, Cam, and Pip evolve. The choices they all have to make are so difficult. I don't know that I would have been able to decide when the right moment came, but Morgan shows her strength in that moment. Does she choose to let Cam go or hold onto him forever? I suppose you'll just have to read it to find out.