Book Review: Shade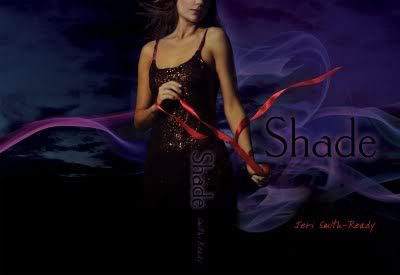 Shade by Jeri Smith Ready
Published By: Simon Pulse
Release Date: May 4, 2010
Shade is one of the best books I have read in quite some time. I am so excited that there is more to come from Aura, Zach, and Logan. This book was one of those that grabbed me from the first chapter and wouldn't let go. I experienced everything right along with Aura and have to admit that it made me shed my fair share of tears in the process.
Ghost books (like other supernatural books these days) are a dime a dozen so it was refreshing for me to read a ghost story with a new twist. Jeri Smith-Ready creates a series of rules for her ghosts that I found to be very original. When people die in her world there are two possible outcomes: 1) they immediately cross over OR 2) they become a ghost haunting the places and people that they loved while alive. Most people that died suddenly or had not finished all their goals in life end up dealing with option #2 as Aura will soon learn. She must experience the heart shattering loss of her boyfriend and childhood friend, Logan. How can she possibly survive without him? Logan makes this pretty easy for her when he returns as a ghost and starts spending his evenings with her.
Having Logan around after his death seems too good to be true and Aura soon learns that she must decide if having him as a ghost is worth it or if she would be better off having nothing of him at all. Is moving on after Logan's death a betrayal of the love they shared?
Jeri Smith-Ready takes something as simple as teen romance and makes it evolve into something with a much bigger message. Her writing style is one that sucks the reader directly into the plot and keep you turning each page with intensity. Her characters are real; the reader can't help caring about each of them. Like Aura, I was torn between Logan and Zach. Aura also shows how strong love can be – it can even reach beyond the grave. I also think the issue of drug abuse within the book has a powerful message for teens. So many of them think that are invincible and don't take the time to think through their decisions and actions. Hopefully someone can learn something from Logan's tragedy.
I am anxiously awaiting the next installment in this series. I need more time with Aura, Zach, and Logan!


Love ties them together.
Death can't tear them apart.
Best. Birthday. Ever. At least, it was supposed to be. With Logan's band playing a critical gig and Aura's plans for an intimate after-party, Aura knows it will be the most memorable night of her boyfriend's life. She never thought it would be his last.
Logan's sudden death leaves Aura devastated. He's gone.
Like everyone born after the Shift, Aura can see and hear ghosts. This mysterious ability has always been annoying, and Aura had wanted nothing more than to figure out why the Shift happened so she can undo it. But not with Logan's violet-hued spirit still hanging around. Because dead Logan is almost as real as ever. Almost.
It doesn't help that Aura's new friend Zachary is so understanding—and so very alive. His support means more to Aura than she cares to admit.
As Aura's relationships with the dead and the living grow ever complicated, so do her feelings for Logan and Zachary. Each holds a piece of Aura's heart…and clues to the secret of the Shift.