Young Adult Giveaway Hop: Stop #187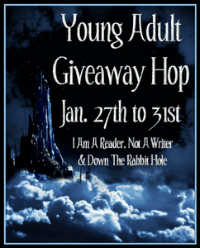 Reading Lark is very excited to be participating in this fun giveaway hop hosted by I Am a Reader, Not a Writer and Down the Rabbit Hole. We are stop #187 on this hop. Contest runs January 27-31. We will announce the Reading Lark winners on February 1.
Tons of great blogs are participating in this hop, so be sure to check out what's being given away at each blog. You have a ton of chances to win some really great books! Most importantly...have fun!
Here at Reading Lark, we are giving away three YA reads. (That means THREE winners!) Giveaways #1 & #2 are open only to US and Canadian residents. Giveaway #3 is open to Kindle owners.
**Please note that the cover art may be different on the copy the winner receives. All summaries are from Goodreads.**
Marked as special at an early age, Jacinda knows her every move is watched. But she longs for freedom to make her own choices. When she breaks the most sacred tenet among her kind, she nearly pays with her life. Until a beautiful stranger saves her. A stranger who was sent to hunt those like her. For Jacinda is a draki—a descendant of dragons whose greatest defense is her secret ability to shift into human form.
Forced to flee into the mortal world with her family, Jacinda struggles to adapt to her new surroundings. The only bright light is Will. Gorgeous, elusive Will who stirs her inner draki to life. Although she is irresistibly drawn to him, Jacinda knows Will's dark secret: He and his family are hunters. She should avoid him at all costs. But her inner draki is slowly slipping away—if it dies she will be left as a human forever. She'll do anything to prevent that. Even if it means getting closer to her most dangerous enemy.
Mythical powers and breathtaking romance ignite in this story of a girl who defies all expectations and whose love crosses an ancient divide.
Giveaway #2: Story of a Girl by Sara Zarr
When she is caught in the backseat of a car with her older brother's best friend--Deanna Lambert's teenage life is changed forever. Struggling to overcome the lasting repercussions and the stifling role of "school slut," she longs to escape a life defined by her past. With subtle grace, complicated wisdom and striking emotion,
Story of a Girl
reminds us of our human capacity for resilience, epiphany and redemption.
Tasmyn Vaughn didn't expect much when her dad's job moved them to a small town in Florida; it was just another new school. But there is more to King than meets the eye, and soon Tasmyn's ability to hear other's thoughts is the least of her worries. Entangled in a web of first love, quirky and secretive townsfolk, magic and blood rituals, she discovers the town's secrets aren't just bizarre, they're deadly.
To Enter:
~You must be a Reading Lark follower
~ You must be at least 13 years old
~ Leaving a comment will earn you +2 entries - this is OPTIONAL
~ Following us on Facebook will earn you +5 entries - this is OPTIONAL
~You must live in the U. S. or Canada for giveaways #1 & #2
~ Giveaway #3 is for a Kindle eB00k only
~You must complete the form
Visit some of the blogs linked below for more chances to win!