Book Review: Dissonance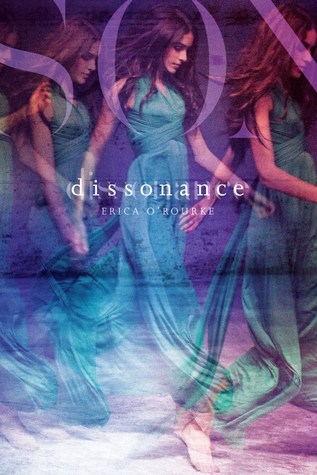 Dissonance
Published by: Simon and Schuster Books for Young Readers
Release date: July 22, 2014
Source: ARC kindly provided by publisher
The summary of this book hooked me with mention of walking into parallel worlds. This kind of speculative fiction has tickled my imagination for years; I think that it's common for teens to be interested in this stuff as well, as they explore their relationship with the world around them. After having finished my reading, I am still intrigued by some of the theories explored in the book.
The premise is that every choice we make creates alternate realities where the other choice was made. These alternate worlds can only be accessed by people carrying a certain genetic marker. These people are called Walkers. They are able to reach into portals between worlds, hear the frequencies of those worlds, and handle the individual threads of those worlds to manipulate how they affect the fabric of the universe as a whole. Because of their exceptional hearing, they are also excellent musicians. The lore in the book is pretty fantastic.
The main character is a girl named Delancey, Del for short. Del is a hard-headed rule breaker. She has the classically absent YA parents, as well as an older sister is a perfect princess type. The unique addition to her family is her grandfather, an elderly walker who is known to be in the early stages of dementia. Del and her grandfather have long shared a special bond, and the pair are close throughout the book.
Del, who is accustomed to being fairly invisible in this world, finds herself struggling to balance her relationships with her male best friend and her love interest, as well as her loyalty to her family with her gut feeling about what is right. All of this is pretty universal to teens, and I love it all as ways for the reader to identify with the main character.
Dissonance is one of my favorite reads of 2014 so far. The sci fi elements, the romance, and the take-charge main character add up to an excellent read that I highly recommend.