Book Review: Deliverance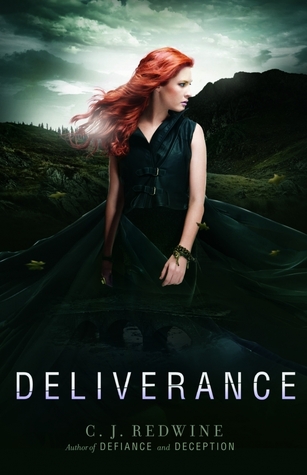 Deliverance
Published by: Balzer + Bray
Release date: August 26, 2014
Genre: YA dystopian/ fantasy
Source: ARC kindly provided by publisher
Read my review of book 1 here.
Read my review of book 2 here.
I am so sorry to see this series conclude; it's one of only a few that I've actually enjoyed the anticipation of waiting for the next book. I've spent the interim between books revisiting the characters in my head, guessing about the adventures waiting in the next book. I am certain that I will continue to enjoy revisiting them, even though I now know how this story concludes, and will certainly make this series one of only a few that I will re-read, living the adventure all over again.
Rachel is one of favorite current YA heroines. She has explored both her strengths and weaknesses throughout the series, learned to embrace the weaknesses as a part of being human, and has come out more fully understanding herself. This allows her to form mature relationships and make wise decisions. I love being able to advocate for books with strong female leads.
Logan, our hero, struggles here with balancing his need to lead his people and his desperation to rescue Rachel. He finds himself doing the unthinkable in an attempt to do both, and in true Logan fashion, weighs the pros and cons before diving headfirst. I think Logan is an excellent character for adolescent boys to read, because he's not the typical all-brawn hero; he strategizes, he considers others, and he worries more about accomplishing good than what others think of him.
Of course I don't want to spoil plot at all, but what I will say is that this volume has a great story of its own, apart from the series, and that the conclusion of the entire arc is satisfying. Readers will be holding their breath, wondering how these characters will manage to wriggle out of dangerous situations- and indeed, some of them won't. In the end, however, Redwine leaves us with the promise of a new day- exactly what the residents of this universe wanted.
I highly recommend this entire series- get your copy pre-ordered!
Summary:
Everything hangs in the balance, and nothing is certain: Rachel has been kidnapped by enemy forces and is being taken to Rowansmark while Logan, imprisoned and awaiting trial, is unable to leave Lankenshire. Separated from each other and their Baalboden comrades, each must find a way to achieve what they desperately want: to rid their world once and for all of the Commander and the tech that controls the deadly Cursed One.
Fighting through her pain and embracing the warrior she's become, Rachel will do whatever it takes to escape her enemies' clutches and join Logan in his fight. But when she learns a secret that changes everything, she realizes that escaping Ian and his tracker friends is no longer an option if she wants to save the people she loves. Instead, she'll have to destroy Rowansmark from the inside out—if she can survive the journey through the Wasteland.
Logan needs allies if he wants to thwart Rowansmark's power grab and rescue Rachel. But securing allies will mean betraying his beliefs and enlisting the help of the man he hates more than anyone: Commander Jason Chase. Driven by his fierce love for Rachel and his determination to make their world safe, Logan may be just the weapon the city-states need to defeat the Cursed One.
But as Rowansmark bears down and uneasy alliances are tested, will Rachel and Logan's love for each other be enough to surmount the unbelievable odds against them?