Book Review: Magnolia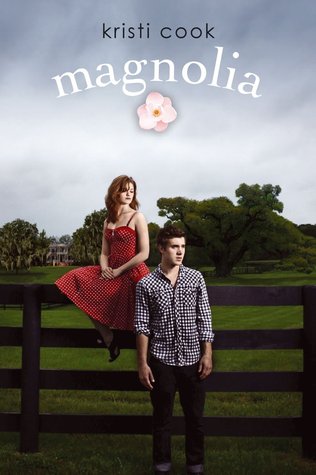 Magnolia
Published by: Simon & Schuster
Release date: August 5, 2014
Source: ARC kindly provided by publisher
I have been a Kristi Cook fan since the beginning of her Haven series. With Magnolia, she demonstrates why I am right about that.
Cook gives us a unique heroine in Jemma Cafferty. Take the typical beautiful cheerleader with great fashion sense and great friends, and give her red hair and the ability to remain calm in an emergency, and make her a crack shot with her pistol so she can shoot poisonous snakes and save people's lives. Make her a good girl who doesn't cause her parents too much worry, but not snotty or uptight. Jemma is so likeable, yet unlike any other character that comes to mind. She's a girl that everyone wants to be friends with, and reading her story makes you feel like you are.
I appreciate the dialogue in this book, because it's honest and doesn't feel contrived. The Southern angle isn't overly-played, and the conversation flows very naturally. Good writers can fake teen conversation; Magnolia reads like Cook taped real teens and transcribed it.
I am also thankful for a story that uses a realistic, temporary way to remove the parents from the picture. Our heroine isn't orphaned, or even an only child. Her lack of supervision is due to a family emergency, and she is left in the care of a close family friend. It's nice to read about a character whose safety net is only taken away for long enough for her to get pushed out of her comfort zone.
I'll save my gushing over Ryder Marsden. He merits his own post, so I'll be featuring him as a Book Boyfriend in the near future. He absolutely deserves the title.
I literally read this book in a day, nearly in one sitting. If you're looking for a good contemporary to sweep you away, this is a sure bet.
Summary:
In Magnolia Branch, Mississippi, the Cafferty and Marsden families are southern royalty. Neighbors since the Civil War, the families have shared vacations, holidays, backyard barbecues, and the overwhelming desire to unite their two clans by marriage. So when a baby boy and girl were born to the families at the same time, the perfect opportunity seemed to have finally arrived.
Jemma Cafferty and Ryder Marsden have no intention of giving in to their parents' wishes. They're only seventeen, for goodness' sake, not to mention that one little problem: They hate each other! Jemma can't stand Ryder's nauseating golden-boy persona, and Ryder would like nothing better than to pretend stubborn Jemma doesn't exist.
But when a violent storm ravages Magnolia Branch, it unearths Jemma's and Ryder's true feelings for each other as the two discover that the line between love and hate may be thin enough to risk crossing over.