Book Review: Servants of the Storm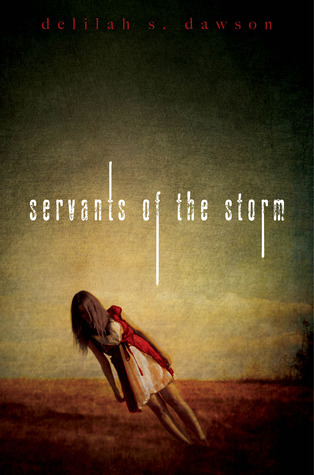 Servants of the Storm
Published by: Simon Pulse
Release date: August 5, 2014
Source: ARC kindly provided by publisher
I've got it bad for this book. I finished reading this book about a week ago, and I'm still so engrossed in the story that I've had difficulty picking up anything else. Indulge me as I share several of the reasons I've already decided that Servants of the Storm will most definitely be on my "Best of 2014" list.
Dawson does a beautiful job with setting and scenery description. I've never visited Georgia, so I have no idea what Savannah actually looks like, but the writer created such a vivid mental map of this setting that I feel like I might be able to drive directly to Dovey's house or the Charnel House or the Liberty Theater. Imagining them through the eyes of Dovey, who sees through a haze of grief and medication at first, makes the scene somewhat fuzzy around the edges- lacking just enough focus to allow for some great evil to be lurking along the edges.
Dawson also writes characters like my great aunt used to make fried chicken- familiar and delicious, with just a little something that sets them apart. Our heroine Billie Dove is as determined as she is sassy, yet she is loving and respectful to those who have earned it, and not easily taken in by those who have not. Though her best friend Carly is absent for a good part of the book, Dovey thinks of her often, replaying memories like favorite records, and the reader knows Carly well despite her absence. Besides the fact that Baker is as innocent as Isaac isn't, both boys are wonderfully helpful and supportive without taking away Dovey's independence.
Oh, how I wish I could really talk about plot- but in the interest of remaining as spoiler-free as possible, I'll talk in generalities. Upon finishing reading, you'll understand the title of the book. It isn't about the storm itself, though- not really, not what we usually think of as a storm. This is a story about what's going on all around the humans that they simply can't see- and wouldn't be able to handle, if they did. This is a story of a girl growing into a capable young woman- and though she has the help of boys, she is the one making the decisions and driving the story. This is not a romance, or a love triangle- though there is some romantic interest, Dovey has too many important tasks to focus on to allow herself the distraction. Her first priority is doing what she knows is right, and remaining a good friend to someone she lost long ago.
I highly recommend Servants of the Storm for all YA paranormal readers. Get your copy pre-ordered, so the publisher will give the go-ahead for the author to get started on the sequel I guarantee you'll be salivating for.
Summary:
A year ago Hurricane Josephine swept through Savannah, Georgia, leaving behind nothing but death and destruction — and taking the life of Dovey's best friend, Carly. Since that night, Dovey has been in a medicated haze, numb to everything around her.
But recently she's started to believe she's seeing things that can't be real ... including Carly at their favorite cafe. Determined to learn the truth, Dovey stops taking her pills. And the world that opens up to her is unlike anything she could have imagined.
As Dovey slips deeper into the shadowy corners of Savannah — where the dark and horrifying secrets lurk — she learns that the storm that destroyed her city and stole her friend was much more than a force of nature. And now the sinister beings truly responsible are out to finish what they started.
Dovey's running out of time and torn between two paths. Will she trust her childhood friend Baker, who can't see the threatening darkness but promises to never give up on Dovey and Carly? Or will she plot with the sexy stranger, Isaac, who offers all the answers — for a price? Soon Dovey realizes that the danger closing in has little to do with Carly ... and everything to do with Dovey herself.