Book Review: Afterworlds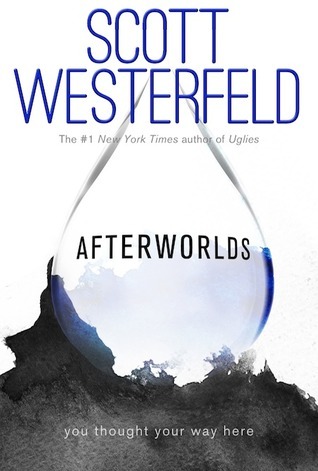 Afterworlds
Published by: Simon Pulse
Release date: September 23, 2014
Genre: YA contemporary, YA paranormal
Source: ARC kindly provided by publisher
This book is both Afterworlds and the story of how the book came to be. It is your favorite seven-layer dip, with a layer of paranormal romance, a layer of realistic contemporary, a layer of generic teen girl, a layer of timeless teen Indian boy, a layer of Hispanic good guy, a layer of young and innocent meets experienced and regretful, and layer of teen Indian girl who likes girls. It sounds like it's going to be a hot mess, but the result is actually delicious.
There are some readers who will not like this book. I much prefer that those readers be warned so that they may avoid the book completely; the interwebs will then be clear of their unhappy words about Afterworlds. If you are not comfortable with books in which a character kisses another character of the same gender, don't read Afterworlds. If you are not comfortable with books in which characters are romantically involved with characters who don't share their race or ethnicity, don't read Afterworlds. If you will get confused while reading a book that is really two books told in alternating chapters, don't read Afterworlds. If it bothers you when an author writes fiction based on the religious texts of other peoples, don't read Afterworlds. If you aren't okay with a plotline that includes mention of children being murdered- well, you know.
If none of those things are a roadblock for you, dive right in. The diversity represented is exactly what the YA community has been thumping drums about for the past few years; characters who are a part of the non-dominant group are present, honest, and blessedly NOT about their non-dominance. Instead of being charged with Representing, they are common people, with unique traits that make for good storytelling. And the stories themselves are certainly good stuff. The fact that Westerfeld can tell the story of how the book came to be written at the same time as you're reading Darcy's novel, and neither story is spoiled by the other, is nothing short of genius- especially when the stories don't even share the same genre.
I would have read either of these novels individually; hello, Scott Westerfeld, 'nuff said. I must say, though, that I really loved watching Darcy grow into a for-real writer. I've been to enough school visits, tour stops, and conventions to recognize her as fairly representative, other than the quick response with a big contract from the publisher- but then again, Darcy is uncommonly lucky. If her journey didn't have a large slice of Shiny, it would probably read as more tedious and depressing than is good for the story.
One of my favorite scenes in the book is from the story that Darcy wrote. Her main character, Lizzie, is being encouraged by her mother to get on with living her own life. Lizzie talks about how being in that moment with her mother IS living. I think that might be the overarching theme that ties the two stories together, and that the reader can best identify with. A YA audience is right in the thick of Becoming. These readers are experiencing discovery and change almost daily, and the most important thing to hold onto from those years is to remember to live each moment as if it's important- because it is.
To recap: Don't read this if you're probably going to dislike it; it doesn't deserve the bad review. If you're a Westerfeld fan, get your hands on it ASAP. Remember that you are, for all intents and purposes, reading two books at once. If you love it, tell the world like I just did.
Summary:
Darcy Patel has put college and everything else on hold to publish her teen novel, Afterworlds. Arriving in New York with no apartment or friends she wonders whether she's made the right decision until she falls in with a crowd of other seasoned and fledgling writers who take her under their wings…
Told in alternating chapters is Darcy's novel, a suspenseful thriller about Lizzie, a teen who slips into the 'Afterworld' to survive a terrorist attack. But the Afterworld is a place between the living and the dead and as Lizzie drifts between our world and that of the Afterworld, she discovers that many unsolved - and terrifying - stories need to be reconciled. And when a new threat resurfaces, Lizzie learns her special gifts may not be enough to protect those she loves and cares about most.