Cover Crazy: Hold Me Like a Breath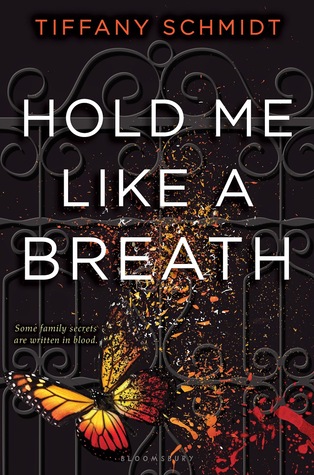 The purpose of Cover Crazy is to feature a cover each week for us to admire its beauty. I really like this idea since there are so many great covers out there! Cover Crazy is a meme that was started by The Book Worms
.
Tiffany Schmidt is an author I keep a close eye on, since I enjoyed Send Me a Sign so much. The cover for her next novel was just recently revealed, and I love it.

The title itself is brilliant- a breath is a delicate thing, but holding it is a feat of strength. Holding another person, when done well, is also delicate, yet strong.

The image of the butterfly seems to be destroyed by the wind- perhaps a breath. The tagline talks about family secrets written in blood, and the color in the bottom right corner looks like it could either be part of the butterfly, or blood. Nice.

Please leave us a comment and let us know your thoughts on this cover.