Book Review: Snow Like Ashes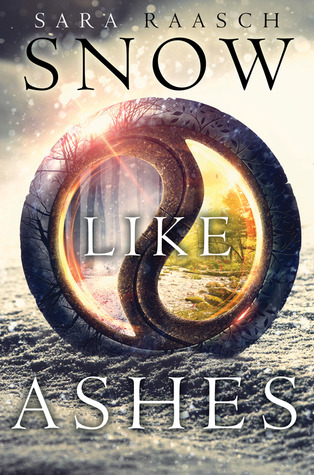 Snow Like Ashes
Published by: Balzer + Bray
Release date: October 14, 2014
I'm going to put this right out there: I figured out the twist 2% into the book, but I didn't care. I wanted to see how it played out, and I loved reading every word.
The kingdom of Winter fell 16 years ago. Meira is one of the very few free survivors of Winter. Winter's demise cost Meira her family, and she now travels with a small group of others who survived and eluded capture, unable to return to their home. Many of Winter's people perished in the war, and the rest are enslaved by the king who destroyed their kingdom. The little band of renegades with whom Meira travels believe that there is hope that their kingdom may be restored: they must find the two halves of their late queen's magic conduit and put the restored locket in the hands of the royal heir, then free their people from the work camps where they are held as slaves.
The heir is a boy about Meira's age: Mather. The two have grown close over the years, but have been constantly reminded of how inappropriate any romantic relationship would be, since one is royalty and the other is inconsequential. Nevertheless, Meira and Mather come to rely on one another for companionship and stability in their tumultuous world.
Another boy becomes important to Meira: Theron, heir of a Rhythm kingdom. I won't give away how they come to know each other, but I will say that they are surprised to find that they have more in common than they would have expected. I wouldn't use the term "love triangle", because even though Meira has some interest in both boys, neither relationship ever becomes the focus of the plot. This isn't a romance, by any means. The tension that these relationships add to the plot adds another dimension to the adventure, rather than detracting.
One of my favorite features of the book is an "I will always be me" theme. Several characters do some significant self-discovery, as is typical in most YA, but the twist in this book is that while they are learning, they have a constant awareness of what is really important: the character traits that they choose to demonstrate, and why. The message to readers about trusting one's instincts and persevering through adversity is powerful.
Kids are going to love the adventure, the magic, and the rebellion of this little group of survivors. The dialogue is witty and believable, and the characters are realistic and likeable. The book will appeal to both boys and girls, since the protagonist is female, but she's surrounded by males waging war on one another. Snow Like Ashes will enjoy a diverse readership; libraries need to order extra copies, and parents will want to add this to their holiday shopping list. As for me, I'll be on the prowl for a tour event so I can add a signed copy to my book shelf.
Summary:
A heartbroken girl. A fierce warrior. A hero in the making.
Sixteen years ago the Kingdom of Winter was conquered and its citizens enslaved, leaving them without magic or a monarch. Now, the Winterians' only hope for freedom is the eight survivors who managed to escape, and who have been waiting for the opportunity to steal back Winter's magic and rebuild the kingdom ever since.
Orphaned as an infant during Winter's defeat, Meira has lived her whole life as a refugee, raised by the Winterians' general, Sir. Training to be a warrior—and desperately in love with her best friend, and future king, Mather — she would do anything to help her kingdom rise to power again.
So when scouts discover the location of the ancient locket that can restore Winter's magic, Meira decides to go after it herself. Finally, she's scaling towers, fighting enemy soldiers, and serving her kingdom just as she's always dreamed she would. But the mission doesn't go as planned, and Meira soon finds herself thrust into a world of evil magic and dangerous politics – and ultimately comes to realize that her destiny is not, never has been, her own.