Book Review: Get Happy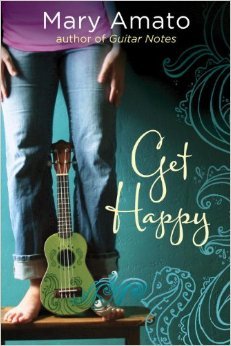 Get Happy
Release date: October 28, 2014
Source: ARC kindly provided by publisher
Get Happy is, in a word, adorable. This is a quick read about a wonderfully musical girl who embraces her individuality, and how she manages to be a fairly well-adjusted person despite how messed-up her family is. I recommend this for readers looking for something sweet that can be gobbled up quickly.
This title caught my eye because my teen daughter loves (has read repeatedly, cradles her tattered paperback) Guitar Notes by the same author. Anything that will keep the attention of my recovering reluctant reader is worth a look, so I grabbed this one up. I am happy to report that my daughter has great taste in reading material.
Minerva and her mom have made a comfortable life in their little townhouse outside of Chicago. Minny has a great friend in Fin, and their little circle seems to be perfectly adequate without her deadbeat, deserter dad. On Minerva's birthday, a mysterious package arrives that sets in motion a series of events that will change everything.
I love that this book celebrates individuality. Many girls like to sing, but Minerva sings original music while strumming a ukelele. She prefers thrift store treasures over pricey name brands, and doesn't worry about trends or popularity. She's a girl who knows her own heart, and isn't concerned about the opinions of others.
I love that this book treats family problems as hard, but survivable. The stuff that Minerva goes through is really tough, and very relatable for many teens; a lot of kids live with one parent who doesn't think highly of the other parent. Being the kid who wants to love two people who don't love each other is heartbreaking. With patience and honesty, though, everyone involved can get to the other side of it intact.
I love that this book has a female main character, and the storyline works perfectly well with little romance. Big, important things are happening in Minerva's life, and none of it is dependent upon her ability to catch a boy. Thank you, Ms. Amato, for giving girls a book that they can identify with if the quest for romance isn't at the top of their list of priorities. And thank you as well for showing that girls don't have to fit the "popular" mold for boys to find them interesting.