Book Review: Playlist for the Dead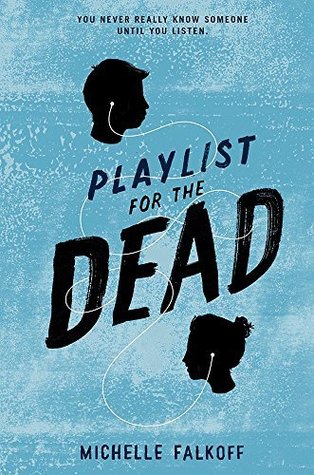 Playlist for the Dead
Published by: Harper Teen
Release date: January 27, 2014
Source: ARC kindly provided by publisher
I was excited to get a shot at this ARC because I'm always looking for good material to use in bibliotherapy: helping students through difficult situations through reading. It's not uncommon for me to have a kid dealing with the death of a friend, so I was hoping this book would be a good candidate.
Several factors make it a great choice. The main character is a young teen boy- perfect because boys who aren't yet old enough to drive are particularly in need of literature that can help them through tough emotional stuff. Older boys often will use the freedom afforded by a driver's license to go out and blow off steam, but younger guys can't do that- and they generally have less social permission to express emotional stuff to friends.
Sam is a great character aside from that, though. He is so much more than so many one-dimensional male characters: football players who chase girls. He's into gaming, manga, and interesting bands. He has a handful of people who care about him, and he is loyal and honest with those chosen few. He is realistic about how much he's struggling with Hayden's death, and tries to come to terms with being responsible for his only friend's death.
The best part of this book, though, comes later on- when Sam starts getting to know some of the other people in Hayden's life, and learns that many of them also feel responsible for what happened. Sam finds that there was more to Hayden than his best friend knew- and that there is more to most other people, too. Even one of those football players, who seemed very one-dimensional early on, is much more.

This is a good read that will bring some healing to many. When you choose to pick it up, know that it's going to dredge up some old hurt- and that's okay. Know that this isn't a cute or funny story. Be ready for a poignant, authentic story about loss, and finding one's way afterward. The journey is worth it.


Summary:
A teenage boy tries to understand his best friend's suicide by listening to the playlist of songs he left behind in this smart, voice-driven debut novel.
Here's what Sam knows: There was a party. There was a fight. The next morning, his best friend, Hayden, was dead. And all he left Sam was a playlist of songs, and a suicide note: For Sam—listen and you'll understand.
As he listens to song after song, Sam tries to face up to what happened the night Hayden killed himself. But it's only by taking out his earbuds and opening his eyes to the people around him that he will finally be able to piece together his best friend's story. And maybe have a chance to change his own.
Part mystery, part love story, and part coming-of-age tale in the vein of Stephen Chbosky's
The Perks of Being a Wallflower
and Tim Tharp's
The Spectacular Now
,
Playlist for the Dead
is an honest and gut-wrenching first novel about loss, rage, what it feels like to outgrow a friendship that's always defined you—and the struggle to redefine yourself. But above all, it's about finding hope when hope seems like the hardest thing to find.