Book Review: The Last Time We Say Goodbye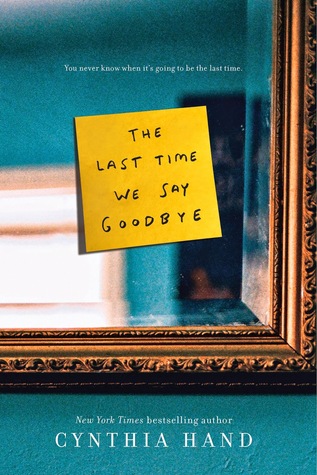 The Last Time We Say Goodbye
Published by: Harper Teen
Release date: February 10, 2015
Source: ARC kindly provided by publisher
I grabbed this one up as soon as it was available; a new Cynthia Hand novel was something I didn't even have to think about, because I loved her Unearthly series so much. If you are also an Unearthly fan, be warned that this book is completely different. It's also a great read, but if you go into it thinking you'll get more angels and romance, you'll be disappointed.
What you will get is an achingly real portrayal of how much of a struggle it is for a teen girl to deal with her brother's suicide. Not only does she have to contend with the gaping holes his absence leaves in her life, but also how the knowledge of what happened seeps into and alters her relationships with family, close friends, and people she never expected.
Several key points are revealed through discovery, so the early chapters are riddled with things that don't quite make sense. Her interactions with her (ex)boyfriend, for example, take on a whole new meaning when you get a complete explanation. The book is worthy of a re-read, since all of this early stuff will mean something different when read with the information you gain in the last part of the book.
Lex is a math genius, but the book isn't about that. Her brilliance, however, does make it even more challenging for her to make sense of such a senseless act. Her math brain searches for a logical explanation, and in so doing, encounters some truly illogical stuff about how human emotions work. This element of the book, while wonderfully written, made it emotionally difficult to digest; if you've known someone who has experienced the death of a young loved one, you'll know what I mean. I think this is the main reason it took me so long to finish reading this one; I read in chunks, and let my brain pick through the chapters a few at a time. The book deserves to be pondered.
While I think there were portions that could have used a bit of streamlining, this is a solid, good read. It might take you a bit of work to get there, but this ending is definitely worth the effort. Make sure you have a quiet room and a box of tissues.
Summary:
There's death all around us.
We just don't pay attention.
Until we do.
The last time Lex was happy, it was before. When she had a family that was whole. A boyfriend she loved. Friends who didn't look at her like she might break down at any moment.
Now she's just the girl whose brother killed himself. And it feels like that's all she'll ever be.
As Lex starts to put her life back together, she tries to block out what happened the night Tyler died. But there's a secret she hasn't told anyone-a text Tyler sent, that could have changed everything.
Lex's brother is gone. But Lex is about to discover that a ghost doesn't have to be real to keep you from moving on.
From New York Times bestselling author Cynthia Hand,
The Last Time We Say Goodbye
is a gorgeous and heart-wrenching story of love, loss, and letting go.