Book Review: My Heart and Other Black Holes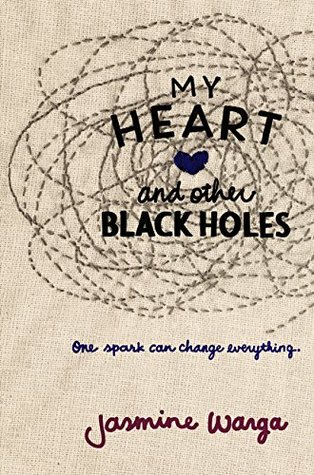 My Heart and Other Black Holes
Published by: Balzer + Bray
Release date: Feb. 10, 2015
Source: ARC kindly provided by publisher
Dear readers, please allow me to introduce you to my latest darling.
I theorize that teens, in a natural stage of development, go through a period of thinking about death: what it means to be dead, ways to die, and what happens afterwards. Aysel explores the idea through physics; she is puzzled by what happens to a person't potential energy when they die. Most kids do this kind of philosophical exploration without stepping into the danger zone. Some go as far as planning their own death. Tragically, a few carry this plan through.
If I'm right, then there is a serious need for YA lit that treats this exploration seriously and offers a couple of different viewpoints and some hope. Warga's book, I think, fits the bill.
Both Aysel and Roman have had some really awful stuff happen to them. Both think they want to die. Neither is overdramatic about it; they are, rather, resigned to the idea that their demise is the best option they have.
This is the beauty of the book; this is not a head-over-heels romance. It's a story of how a sweet, sad boy teaches a sweet, sad girl that she is worth loving. Roman listens to Aysel, respects her privacy when she doesn't want to talk, and doesn't judge. He checks to make sure she's okay, and doesn't hold her responsible for her father's crime. He shows her genuine empathy and caring- and this puts her on the road to a better place, which neither one of them intended. He accidentally saves her by purposely being kind.
This is the most cleanly real book I've read in a long time, and after talking about how these kids want to die for hundreds of pages, it still leaves the reader with hope. I don't think I can possibly ask more from a YA contemporary novel. It is achingly honest, tender, and beautiful. This one will most assuredly make my yearly "best of" list.
Summary:
Sixteen-year-old physics nerd Aysel is obsessed with plotting her own death. With a mother who can barely look at her without wincing, classmates who whisper behind her back, and a father whose violent crime rocked her small town, Aysel is ready to turn her potential energy into nothingness.
There's only one problem: she's not sure she has the courage to do it alone. But once she discovers a website with a section called Suicide Partners, Aysel's convinced she's found her solution: a teen boy with the username FrozenRobot (aka Roman) who's haunted by a family tragedy is looking for a partner.
Even though Aysel and Roman have nothing in common, they slowly start to fill in each other's broken lives. But as their suicide pact becomes more concrete, Aysel begins to question whether she really wants to go through with it. Ultimately, she must choose between wanting to die or trying to convince Roman to live so they can discover the potential of their energy together. Except that Roman may not be so easy to convince.