Cover Crazy: Magonia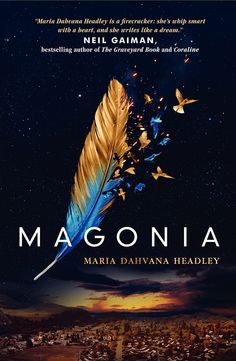 The purpose of Cover Crazy is to feature a cover each week for us to admire its beauty. I really like this idea since there are so many great covers out there! Cover Crazy is a meme that was started by The Book Worms
.
I have featured several covers where one image melts into another, like this feather melts into birds in flight. I love the symbolism in those; they always make me want to pick up that book and see what's going on inside.
The landscape below the title is interesting as well. I can't quite tell what it is- the ruins of a town? bones in piles?- but there's a story there.
The finale is the blurb by Neil Gaiman. Any book that Gaiman blurbs deserves my attention, let's just be honest. The man is a genius.

Please leave us a comment and let us know your thoughts on this cover.