Book Review: Challenger Deep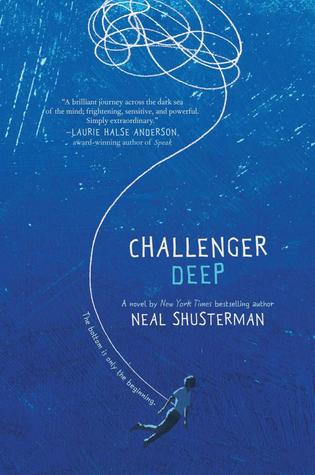 Challenger Deep
Published by: HarperCollins
Source: ARC kindly provided by publisher
I think I know why I didn't absolutely adore this book, even though it's a brilliant concept that is well-executed: this is not a for-fun book. This is a book that you'll need to think about, a character for whom you will ache, and a story that will hit just a little too close to home for this to be an enjoyable fictional snack. This is a serious literary meal, and you'll need to bring your appetite to be ready to handle it. I wasn't in the right frame of mind for reading something this weighty. I think a reader who goes in knowing that they'll need to give the book some real energy would probably appreciate it better than I was able to.
On to the brilliance I was able to appreciate. . . this trip down the rabbit hole of mental illness was fresh and daring. There is a bit of Walter Mitty in Caden Bosch, a boy living in two worlds. While I remember Mitty being a little more whimsical, Challenger Deep walked more on the horrific side of losing oneself- a taste of Cuckoo's Nest, but a bit more modern and less frantic. The whole package represents the dread, the struggle, the humor, and the eventual peace that can be found in psychiatric treatment.
Caden Bosch is a boy afloat in the sea of adolescence. Unfortunately for him, the moment when he most needs his parents there to notice the details is also the moment when they're allowing him more freedom to do things with friends and get himself to school and home from practice. He's a pretty ordinary boy, until he's no longer ordinary at all, and everyone starts to notice erratic and illogical behavior. As the regular guy in Caden becomes harder to find, the empathy for him comes easier.
I love that this book will be available to teens. So many kids have had similar experiences, and deserve to know that they are not alone. Many others have friends who have gone through this, and they need to know that the friend they knew is still in there- and may return, with any luck. The universality is powerful, and the message of hope is essential.
Summary:
Caden Bosch is on a ship that's headed for the deepest point on Earth: Challenger Deep, the southern part of the Marianas Trench.
Caden Bosch is a brilliant high school student whose friends are starting to notice his odd behavior.
Caden Bosch is designated the ship's artist in residence, to document the journey with images.
Caden Bosch pretends to join the school track team but spends his days walking for miles, absorbed by the thoughts in his head.
Caden Bosch is split between his allegiance to the captain and the allure of mutiny.
Caden Bosch is torn.
A captivating and powerful novel that lingers long beyond the last page, Challenger Deep is a heartfelt tour de force by one of today's most admired writers for teens.