Book Review: Illusionarium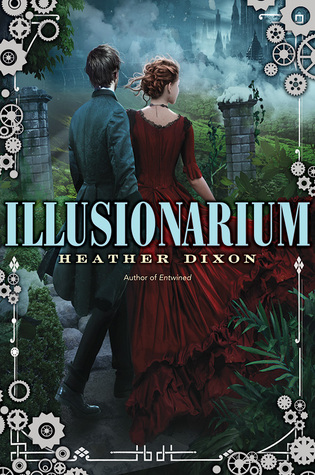 Illusionarium
By: Heather Dixon
Published by: Greenwillow Books
Release date: May 19, 2015
Source: ARC kindly provided by publisher
Disclaimer: this time of year is the absolute busiest for me. My day job, my kids, and my allergies make it difficult for me to give my reading the attention it deserves. Had I picked up this book at a different time of year, I may have connected with it more. As it is, I recognize a lot of really great elements- but something kept it from being great.
This plot will keep you jogging right along, page after page. The book opens on one of the few peaceful scenes of the book- and from there, the reader is chasing after Jonathan, who is chasing after people and a cure and the truth. He jumps from place to place, world to world, airship to rooftop- all the while discovering his power as an illusionist, and his power as an honest man of good will.
Jonathan's adventure becomes a platform for the character's evolution. He begins the book as barely more than a child, and ends as truly a young man. He encounters a good number of people who are difficult to like, and manages to maintain focus on his goal. While many readers will appreciate his story, I don't know how many will really connect with his voice.
I have a bit of a complaint about the cover. It gave me the impression that there would be an element of romance, and that the female pictured would play an important part in the plot. It just doesn't match to me; Jonathan journeys alone, and while there are several female characters, none of them are really central to the plot, and there is no emphasis on romance. While this cover is gorgeous, I think it misrepresents the book as a whole. Sadly, I think it will chase off some young male readers who would really enjoy the book.
The mythology that Dixon creates for her parallel worlds is something you might find in a Westerfeld novel (and I mean that as a high compliment; I love Westerfeld.) She doesn't simply tell the reader what is. . . she explains the science behind the reasons why her universe works the way it does. The discovery process is beautifully turned, and the questions are artfully answered in the end.
Summary:
What if the world holds more dangers—and more wonders—than we have ever known? And what if there is more than one world? From Heather Dixon, author of the acclaimed
Entwined
, comes a brilliantly conceived adventure that sweeps us from the inner workings of our souls to the far reaches of our imaginations.
Jonathan is perfectly ordinary. But then—as every good adventure begins—the king swoops into port, and Jonathan and his father are enlisted to find the cure to a deadly plague. Jonathan discovers that he's a prodigy at working with a new chemical called fantillium, which creates shared hallucinations—or illusions. And just like that, Jonathan is knocked off his path. Through richly developed parallel worlds, vivid action, a healthy dose of humor, and gorgeous writing, Heather Dixon spins a story that calls to mind
The Night Circus
and Pixar movies, but is wholly its own.