Cover Crazy: This Monstrous Thing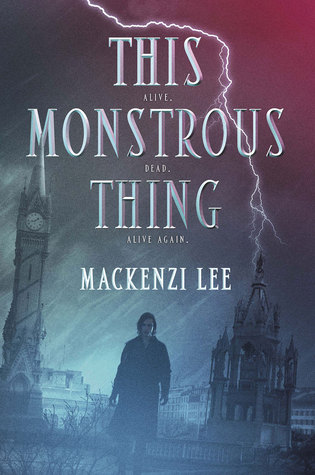 The purpose of Cover Crazy is to feature a cover each week for us to admire its beauty. I really like this idea since there are so many great covers out there! Cover Crazy is a meme that was started by The Book Worms
.
This week I'm featuring
This Monstrous Thing by Mackenzi Lee
This book is a retelling of one of my all-time favorites, Mary Shelley's Frankenstein. This cover pulls in many of the original's great elements. The lightning bolt is both obvious and fabulous. The color scheme hearkens back to the original time period, yet carries more depth than a simple black-and-white could. The title font is simply gorgeous; it's both Gothic and futuristic, with sharp edges that give it a steely, cold feel. The figure in the foreground might be my favorite element: is it the creator, or the creation? Which of them is truly the monstrous thing?

Leave us a comment and share your thoughts on this cover.