Book Review: Dumplin'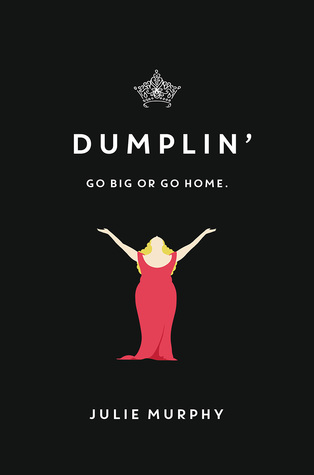 Dumplin'
Published by: Balzer + Bray
Release date: September 15, 2015
Source: ARC kindly provided by publisher
If you've been hearing the buzz about this book, you know that it's one of the most highly anticipated books of the year. Rest assured that this book lives up to the hype- and then some.
I am a sucker for a well-written character. Julie Murphy is hereby being proclaimed a characterization goddess, because every single character in this book is spectacularly well-fashioned. I feel like I've known these people for years, and could drive just a few towns over and visit if I wanted to. I finished reading a few days ago, and I can't stop thinking about them. Not just the main character, mind you- even secondary characters feel like they are a part of my world. Excellent, excellent work.
I love that Ms. Murphy chose to focus on a character who doesn't fit social norms for what she should look like, is comfortable with that, and yet struggles with it. This is so common in the teen experience, and yet is rarely found in teen lit; characters are usually written as either comfortable OR struggling, but kids are often situationally both. Willowdean is aware of the eyes on her and the comments behind her back, and is usually able to roll her eyes and ignore them. The voice she can't shake, though, is the one in her own head. . . the one that hasn't voiced its doubts, not really, until now. As she matures, she's learning that she has more to overcome than she ever thought. This is such a universal theme, yet it's packaged here in a fresh way.
There is some objectionable language, so be aware of that if it's an issue for you. There is discussion of sexual content between characters, but I don't recall any graphic description. These things aren't gratuitous, though; they are organic parts of these characters' world, and make perfect sense in the plot. There is also romance, which is realistically sweet, and girl drama, also very realistic and not sweet. The very best theme, though, is Will's friendships. Her friendship with her best friend Ellen, her new friendships with girls struggling in similar ways, and her friendships with they guys who are her co-workers are all perfectly illustrative of who she is as a person, and of how all of those people are figuring themselves out, too.
My shelf space is at a premium these days, so if I buy, I often will opt for an electronic copy. As I was writing this review, though- in the middle of the task- I was compelled to pre-order a hard copy. If I am ever lucky enough to meet Julie Murphy, I will want to get this book signed. I've already read it, and I'm spending cash and shelf space in the hope of one day meeting the author. That's the highest form of praise I can think of, and I give it unabashedly to this book. You will want your own copy too; go click that pre-order button.
Self-proclaimed fat girl Willowdean Dickson (dubbed "Dumplin'" by her former beauty queen mom) has always been at home in her own skin. Her thoughts on having the ultimate bikini body? Put a bikini on your body. With her all-American beauty best friend, Ellen, by her side, things have always worked . . . until Will takes a job at Harpy's, the local fast-food joint. There she meets Private School Bo, a hot former jock. Will isn't surprised to find herself attracted to Bo. But she is surprised when he seems to like her back.
Instead of finding new heights of self-assurance in her relationship with Bo, Will starts to doubt herself. So she sets out to take back her confidence by doing the most horrifying thing she can imagine: entering the Miss Clover City beauty pageant—along with several other unlikely candidates—to show the world that she deserves to be up there as much as any twiggy girl does. Along the way, she'll shock the hell out of Clover City—and maybe herself most of all.
With starry Texas nights, red candy suckers, Dolly Parton songs, and a wildly unforgettable heroine— Dumplin' is guaranteed to steal your heart.