Book Review: Walk On Earth a Stranger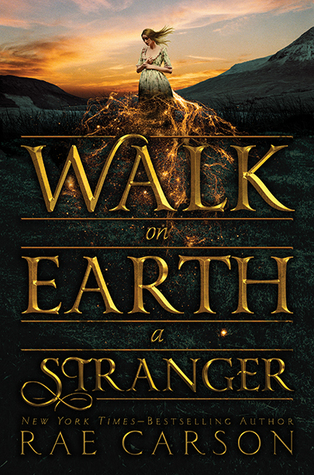 Walk on Earth a Stranger
Published by: Greenwillow Books
Release date: September 22, 2015
Genre: YA historical/paranormal
Source: ARC kindly provided by publisher
I can't even remember how long I have been anticipating this book. Carson's Girl of Fire and Thorns trilogy is on my personal top ten list, so I was so excited at the prospect of getting to read more of her stuff. Being so excited for a new release is a dangerous thing, though; that anticipation can make a disappointing book even more of a let-down. Imagine my delight that Walk on Earth a Stranger lived up to all of my expectations, and then some.
I've confessed before my love of excellent characterization. Carson's book is another one that left me feeling that I had gotten to know a whole new community of people. In the style of a classic Western, the good guys have hearts of gold, and the bad guys are villainous through and through. The main character, Leah Westfall, has the deck stacked against her: she is young, female, and alone in the world after her parents are brutally murdered early on in the book. Like a true heroine, she finds a way to battle each of the obstacles in her path.
Carson is even better at world-building. She has a ready-made template, having set the story in American Gold Rush era, but she fills in the gaps left by history text knowledge, and adds a dash of imagination by weaving in Leah's paranormal ability to find gold. This ability is dangerous for her, since being found out would lead to her being hunted and kept like an animal. Characters represent a variety of viewpoints on the era: a former slave, a runaway slave, a boy whose mother is Cherokee, an immigrant family, and a gay man all are able to inform the reader on what they commonly experience in that time period. All of these narratives give the world dimension and texture that would have been sorely missed in their absence.
I devoured this book in hours. I am now, therefore, right back where I started: adoring Carson's work, and pining for forthcoming releases. I highly recommend pre-ordering this one so you can enjoy it as quickly as possible.
The first book in a new trilogy from acclaimed
New York Times
bestselling author Rae Carson. A young woman with the magical ability to sense the presence of gold must flee her home, taking her on a sweeping and dangerous journey across Gold Rush–era America.
Lee Westfall has a secret. She can sense the presence of gold in the world around her. Veins deep beneath the earth, pebbles in the river, nuggets dug up from the forest floor. The buzz of gold means warmth and life and home—until everything is ripped away by a man who wants to control her. Left with nothing, Lee disguises herself as a boy and takes to the trail across the country. Gold was discovered in California, and where else could such a magical girl find herself, find safety? Rae Carson, author of the acclaimed Girl of Fire and Thorns trilogy, dazzles with this new fantasy that subverts both our own history and familiar fantasy tropes.
Walk on Earth a Stranger
, the first book in this new trilogy, introduces—as only Rae Carson can—a strong heroine, a perilous road, a fantastical twist, and a slow-burning romance. Includes a map and author's note on historical research.