Book Review: Lord Fenton's Folly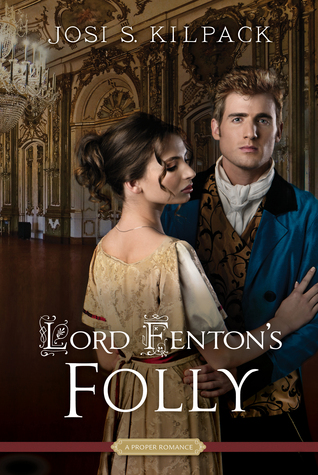 Lord Fenton's Folly
Published by: Shadow Mountain
Release date: October 6, 2015
Source: ARC kindly provided by publisher
Lord Fenton's Folly was anything but. After reading numerous YA novels lately, this regency era romance was an entertaining change. I didn't know anything about the book going into it, but Lord Fenton had me intrigued from the beginning.
Lord Fenton (Charles) first encounters Alice when he is 16 and she is just 8. However, he leaves a lasting impression on her. Alice fancies herself "in love" with him for many years. When Alice finally enters society at 18, she hopes that she will see Lord Fenton sometime during the season.
Unfortunately, Lord Fenton has changed quite a bit in the last 10 years. He and his father do not get along at all. Lord Fenton has done all he can do to embarrass his father so everyone will know he is nothing like the man who sired him. But he goes too far and his father threatens to disinherit him unless he straightens up, learns the business from his father, and finds a wife.
Alice and Charles end up engaged, but she eventually figures out that he didn't propose because he loves her. Once the truth comes out, Alice and Charles begin to fight like cats and dogs. They both agree to go ahead with the marriage, figuring it will be one of convenience rather than love.
Soon after they are married, Lady Chariton, Lord Fenton's mother, becomes very ill. She goes to her family estate with Alice to recuperate. And there we begin to see what has made Lord and Lady Chariton into the people they are.
The beginning of the book was very lighthearted. Alice and Lord Fenton's exchanges were great to read. I appreciated Alice's fiery spirit and it was fun to see the two of them banter. However, the second half of the book was much more serious as we began to see the darker side of Lord Fenton's family. I began to have more sympathy for Lord Fenton as I learned more about where his fears were coming from.
My favorite character was Lady Chariton. She was the perfect example of love and selflessness. I cannot imagine going through the things she did and coming out the amazing woman she was. It was wonderful that Alice had her as a friend since she and Lord Fenton were so contentious in their relationship.
This novel was as much about romance as it was about forgiveness, and that made it even better. Heartwarming and a feel-good book...what more could you ask for?!
Summary:
Lord Fenton is a gambler, a dandy, and a flirt—and he must marry or else he will be disinherited, stripped of his wealth and his position. He chooses Alice Stanbridge for two simple reasons: he once knew her as a young girl, and she is the least objectionable option available to him.
However, Alice has harbored feelings for Fenton since their first meeting ten years ago, and she believes his proposal is real. When she discovers it is not, she is embarrassed and hurt. However, a match with the most-eligible bachelor in London would secure not only her future but that of her family as well.
Determined to protect herself from making a fool of herself a second time, Alice matches Lord Fenton wit for wit and insult for insult as they move toward a marriage of convenience that is anything but a happy union. Only when faced with family secrets that have shaped Fenton's life does he let down his guard enough to find room in his heart for Alice. But can Alice risk her heart a second time?