Cover Crazy: The Girl From Everywhere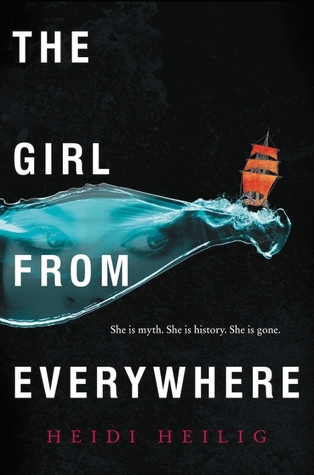 The purpose of Cover Crazy is to feature a cover each week for us to admire its beauty. I really like this idea since there are so many great covers out there! Cover Crazy is a meme that was started by The Book Worms
.
This week I'm featuring
The Girl From Everywhere by Heidi Heilig
I am so anxious to read this book, largely based on this cover. The images in the middle are ridiculously beautiful: the girl who seems to peer out the the sea, which is possibly not a sea, but on which a ship sails- lovely. Then the tag like sneaks in, painting this girl as amazing and mysterious. I must get to know her. The stark white title font set against the black background hints of more mystery. It says that things appear to be simple, but they so obviously are not.
The more I look at this cover, the happier I am that the arc is in by tbr queue.

Leave us a comment and share your thoughts on this cover.