Book Review: The Lies About Truth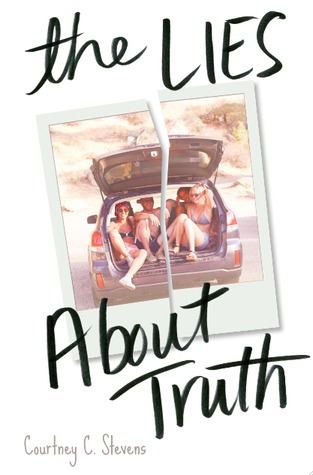 The Lies About Truth
Release date: November 3, 2015
Source: ARC kindly provided by publisher
I'm a fan of Stevens' first novel, Faking Normal, so I didn't hesitate to grab up her latest offering. If you haven't yet read it, I would recommend that you check it out.
The Lies About Truth is a story about the journey that a group of friends take after one of them is killed in a car accident. It focuses on the narrator, but as she reconnects with each of them, the others' stories come through as well.
Grief is a theme that most teen readers can connect with. Each of us grieves differently, yet we can understand the aching hearts of others. Sadie, the main character, has a difficult time understanding the actions of some of her friends. When she discovers some previously unknown details about the accident, she finds that she can finally understand why her friends have done some of the things that have driven them apart.

Stevens is honing her craft, as evidenced in this novel. The writing shows maturity, in that she juggles more characters and still portray each with a distinct voice. The discovery element isn't predictable as I worried it might be, and the resolution closes the door just enough to know that this chapter of the characters' lives is at a close, but with a touch light enough to make the reader wonder what will happen to them in the fall.

The universality of Stevens' novels is what keeps me coming back, and why I keep recommending them to other readers. She features both male and female perspectives on issues that many teens face, and does it with a gentle pace that allows the reader to breathe between the sad notes. I am excited to see what she throws at us next.
Summary:
Sadie Kingston, is a girl living in the aftermath. A year after surviving a car accident that killed her friend Trent and left her body and face scarred, she can't move forward. The only person who seems to understand her is Trent's brother, Max.
As Sadie begins to fall for Max, she's unsure if she is truly healed enough to be with him — even if Max is able to look at her scars and not shy away. But when the truth about the accident and subsequent events comes to light, Sadie has to decide if she can embrace the future or if she'll always be trapped in the past.