Book Review: Never Always Sometimes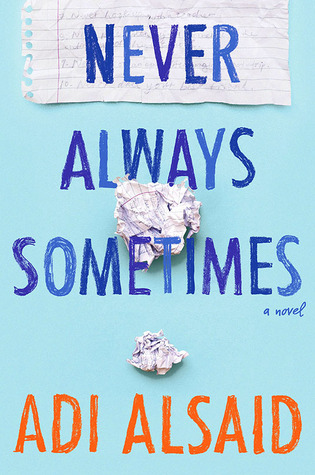 Never Always Sometimes
Published by: Harlequin Teen
Release date: August 4, 2015
Source: ARC kindly provided by publisher
This is one of those that has been talked up so much that it will make you wonder if it is worth the hype. The short answer is, yes.
The long answer is, it depends on what you like in a novel. Do you enjoy snarky, loner teens with exceptional vocabularies and atypical angst? Do you enjoy alternating points of view? Do you like a quick read that will refuse to let you put it down? Never Always Sometimes has all of these, plus a lot of other awesome stuff.
The book features a pair of best friends, Dave and Julia. They have been in their own little friend world for several years now, and as they approach the end of their high school years, they decide to forsake their vow to have completely original high school experiences, and see exactly what the rest of their classmates have been up to.

Dave feels somewhat disconnected to his brother and dad, since his mother died and left a hole in their family dynamic. Julia adores her adoptive dads, yet can't help but idolize her constantly-traveling birth mother. Their relative (pun intended) disconnection strengthens their bond to each other, and creates a very small universe of familiarity and intimacy. When the pair start connecting to others, the dynamic between the two of them shifts in ways that surprise them both. The book could be a study in relational dynamics, and is in this aspect absolutely genius. If there isn't at least one relationship in this book that throws your soul back to a previous personal experience, I don't know if you can truly call yourself human.

The complexity of emotion that Alsaid packs into this quick read is stunning. Days later, I am still unraveling what exactly my thoughts are about these characters and their choices. It's a predicament when you want to be judgemental of characters who have messed up in ways similar to your own mistakes. "Thought provoking" is the phrase that comes to mind, though it feels utterly inadequate. The book provokes both thought and emotion, in a package that is pure entertainment. Of course it's receiving a lot of attention and praise. Read it so you can join the chorus.
Summary:
Never date your best friend.
Sometimes rules are meant to be broken.
Best friends Dave and Julia were determined to never be cliché high school kids—the ones who sit at the same lunch table every day, dissecting the drama from homeroom and plotting their campaigns for prom king and queen. They even wrote their own Never List of everything they vowed they'd never, ever do in high school.
Some of the rules have been easy to follow, like #5,
never dye your hair a color of the rainbow
, or #7,
never hook up with a teacher
. But Dave has a secret: he's broken rule #8,
never pine silently after someone for the entirety of high school
. It's either that or break rule #10,
never date your best friend
. Dave has loved Julia for as long as he can remember.
Julia is beautiful, wild and impetuous. So when she suggests they do every Never on the list, Dave is happy to play along. He even dyes his hair an unfortunate shade of green. It starts as a joke, but then a funny thing happens: Dave and Julia discover that by skipping the clichés, they've actually been missing out on high school. And maybe even on love.