Book Review: The Crown's Game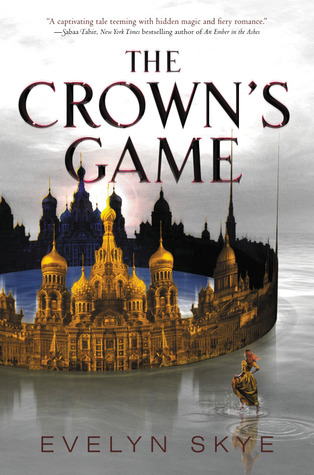 The Crown's Game
Published by: Balzer + Bray
Release date: May 17, 2016
Genre: YA historical fantasy
Source: galley kindly provided by publisher
I've recently had a run of good luck in picking out fantasy set in rich non-Western cultures. The Crown's Game involves some wonderful use of magic, but it's the Russian backdrop that's the real star of the show.
The Crown's Game is named for a contest between Russian enchanters; a battle of wits meant to both impress the tsar and demonstrate superiority over the other enchanter. Because there is a finite source of magic in Russia, it's to the advantage of the tsar for there to be only one enchanter, and for him to have that enchanter in his employ. This is the story of two young enchanters, and their Game.
Vika has been mentored by her kind and loving father, a nobleman with just enough command of magic to be able to guide Vika as she learns to master her abilities. They have lived a quiet life of solitude in the woods, away from prying eyes and the whispers of gossiping villagers. Vika has learned to be strong and self-sufficient, though her courtly manners have suffered a bit from their isolation.
Nikolai has been mentored by a cruel noble woman who demands of him nothing less than his best. She spares him no love, requiring his absolute obedience and perfection. When she is occupied with social engagements, however, Nikolai steals moments away from her home. On one of his excursions, by chance, he meets and befriends the crown prince: the tsesarevich, Pavel Alexandrovich Romanov, better known as Pasha to his family and closest friends.
I loved, loved the Russian backdrop for this book. It certainly could have been set in a completely fictional land, but there is just enough historically accurate detail woven into this book to make the reader wonder, if just for a moment, if it could be real. Fantasy is fun to read, but the kind that makes you half-believe is my favorite.
This is the first of a series, obviously; a major character disappears at the end, in a way that leaves the story unresolved, and a menacing antagonist is left on the prowl. I'll nurse my wounds over this ending as I impatiently await book 2.
Vika Andreyeva can summon the snow and turn ash into gold. Nikolai Karimov can see through walls and conjure bridges out of thin air. They are enchanters—the only two in Russia—and with the Ottoman Empire and the Kazakhs threatening, the Tsar needs a powerful enchanter by his side.

And so he initiates the Crown's Game, an ancient duel of magical skill—the greatest test an enchanter will ever know. The victor becomes the Imperial Enchanter and the Tsar's most respected adviser. The defeated is sentenced to death.

Raised on tiny Ovchinin Island her whole life, Vika is eager for the chance to show off her talent in the grand capital of Saint Petersburg. But can she kill another enchanter—even when his magic calls to her like nothing else ever has?

For Nikolai, an orphan, the Crown's Game is the chance of a lifetime. But his deadly opponent is a force to be reckoned with—beautiful, whip smart, imaginative—and he can't stop thinking about her.

And when Pasha, Nikolai's best friend and heir to the throne, also starts to fall for the mysterious enchantress, Nikolai must defeat the girl they both love... or be killed himself.

As long-buried secrets emerge, threatening the future of the empire, it becomes dangerously clear... the Crown's Game is not one to lose.