Book Review: The Star-Touched Queen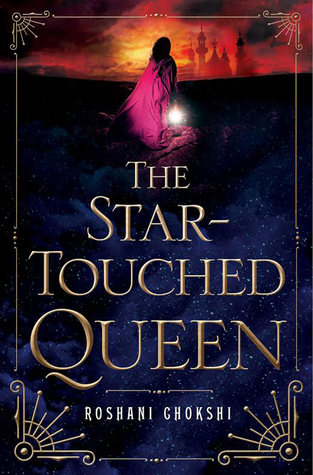 The Star-Touched Queen
Published by: St. Martin's Griffin
Release date: May 3, 2016
Source: ARC kindly provided by publisher
There are entire worlds out there of gorgeous folk literature of which many Westerners are unaware. I learned just enough to do a passable job teaching a high school World Literature course, and I remember thinking at the time that Indian folklore would be a great basis for a YA fantasy. In The Star-Touched Queen, my wish has been granted.
The novel begins with the reader meeting Maya, a young princess who is a societal outcast because she has an unlucky horoscope. The entire harem avoids her, except her sweet sister Gauri. Maya spends her days scaring off her tutors, climbing into hiding spots, and eavesdropping on important court discussions. It's during one of these eavesdropping sessions that she learns that her life is about to change forever.
The fantasy elements are rich and exotic, with a foreboding, dark flavor. Maya meets the Raja of the Otherworld, a flesh-eating horse, and several other creatures that will spark the reader's imagination. She travels through dimensions, and each setting is cleverly described, giving the reader a strong feel for the place without slowing down the action. I very much enjoyed the sights and sounds of Maya's journey.
Tessa Gratton, an author whose work I adore, called this "A luscious, bloodthirsty fairy tale." I agree wholeheartedly. As engaging as the plot is, though, this is a character-driven novel; a tale of epic self-discovery. Maya learns about a past she doesn't remember, and discovers strength and potential of which she hadn't dare to dream. The journey is both physical and spiritual, and while there are several interesting and important characters besides Maya, she is truly the star of the show. I appreciate that there were storylines about important relationships of several types, but the story isn't about that- it's about her. I can't remember the last time I felt that I knew a character as well as I now know Maya.
If you enjoy YA fantasy at all, and you feel you could use something to cleanse the reading palate of the usual fare available, The Star-Touched Queen is an excellent choice.
Fate and fortune. Power and passion. What does it take to be the queen of a kingdom when you're only seventeen?

Maya is cursed. With a horoscope that promises a marriage of Death and Destruction, she has earned only the scorn and fear of her father's kingdom. Content to follow more scholarly pursuits, her whole world is torn apart when her father, the Raja, arranges a wedding of political convenience to quell outside rebellions. Soon Maya becomes the queen of Akaran and wife of Amar. Neither roles are what she expected: As Akaran's queen, she finds her voice and power. As Amar's wife, she finds something else entirely: Compassion. Protection. Desire...

But Akaran has its own secrets -- thousands of locked doors, gardens of glass, and a tree that bears memories instead of fruit. Soon, Maya suspects her life is in danger. Yet who, besides her husband, can she trust? With the fate of the human and Otherworldly realms hanging in the balance, Maya must unravel an ancient mystery that spans reincarnated lives to save those she loves the most. . .including herself.

A lush and vivid story that is steeped in Indian folklore and mythology. The Star-Touched Queen is a novel that no reader will soon forget.