Book Review: Ivory and Bone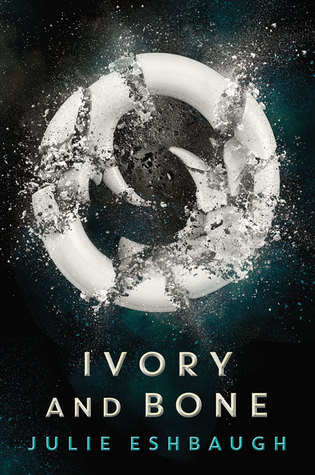 Ivory and Bone
Release date: June 7, 2016
Source: galley kindly provided by publisher
I should preface this review with a disclaimer: I've not read Pride and Prejudice. My review is based 100% on what I read in this book, without comparison to Austen's work. What can I say; I was required to read Northanger Abbey instead of P&P, and I've never gotten back to it. Bad English major.
This was great snack reading; the characters' isolation made it easy to keep up with the plot and who was talking to whom. I read most of the book in one sitting, even though that wasn't my original plan; I kept turning the pages, carried along with Kol's tale. I can imagine that some may read the summary and think that it will be difficult and slow reading; it absolutely is not.
I liked that this wasn't a simple love story between two people. Their story is deeply connected to the fates of their families and their clans, so feelings about a potential sweetheart must be tempered with concerns for the well-being of the community as a whole. Such matters are rarely an issue in modern Western society- in fact, I'm sure that some would consider this barbaric and ridiculous- but in some times and cultures, matches were often made with practicality in mind. It's fun to consider, while I can appreciate that my daughters won't have this concern.
I also enjoyed the perspective on what it's like to hunt and be at war in a world without modern weapons. The process of killing with only a spear, knife, or rock- even when done out of necessity- is so raw. The concept of responsibility of the kill is so much stronger when it requires all of your strength, and happens directly in front of you. I appreciate that these characters feel the weight of what they have done, and are driven to own up to the result of their actions.
I noted that a point was made that the Manu clan hadn't seen anyone else in a very long time- then after they finally had a visit from the Olen clan, they visited each other, as well as the Bosha clan across the bay, frequently. The journey between camps was at first described as long, treacherous, and difficult. It was later glossed over as if it were as simple as walking three or four city blocks. With so many trips back and forth, fully describing them would have slowed down the action, and I'm glad that it wasn't done that way- but this little thing could have been tightened up a bit.
I look forward to reading the next book in the series, and will be looking for more titles from this author. I would encourage readers to be on the lookout for Ivory and Bone when it releases next month.
A prehistoric fantasy—with allusions to Pride and Prejudice.
Hunting, gathering, and keeping his family safe—that's the life seventeen-year-old Kol knows. Then bold, enigmatic Mya arrives from the south with her family, and Kol is captivated. He wants her to like and trust him, but any hopes of impressing her are ruined when he makes a careless—and nearly grave—mistake. However, there's something more to Mya's cool disdain…a history wrought with loss that comes to light when another clan arrives. With them is Lo, an enemy from Mya's past who Mya swears has ulterior motives.
As Kol gets to know Lo, tensions between Mya and Lo escalate until violence erupts. Faced with shattering losses, Kol is forced to question every person he's trusted. One thing is for sure: this was a war that Mya or Lo—Kol doesn't know which—had been planning all along.