Book Review: The Raven King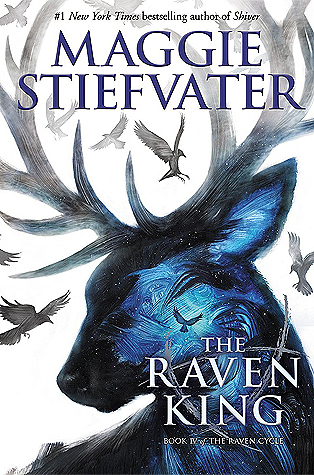 The Raven King
Published by: Scholastic Press
Release date: April 26, 2016
Source: purchased by reviewer
Our review of book 1: The Raven Boys
Our review of book 2: The Dream Thieves
Our review of book 3: Blue Lily, Lily Blue
I usually compliment books that I read quickly, saying that I couldn't put it down. This one demanded that I digest it in smaller chunks. When I physically put it down, I was continuously thinking about the book, unraveling mysteries and connecting to events earlier in the series. It took me nearly a week to read because I had to let ideas and dialogue marinate before continuing on. And this isn't even about the reader wanting to savor- even though I did want to- it's about the text requiring attention. It's about quality and richness and immersion into a world that is at once gorgeous and terrifying.
The Raven King is the finale of The Raven Cycle; links to our reviews of each book are above. Stiefvater managed to save some of the best surprise moments for this book, which is part of why I am so impressed with it. She writes of magicians, and has managed to become one herself.
The search for Glendower concludes in grand fashion, yet other storylines are not overshadowed. The Gray Man's ties to the world outside of Henrietta come into play. Noah Czerny, the poor boy- his sister even shows up. Glendower's daughter does her share of complicating things. Adam's family issues are addressed, and somewhat resolved. Ronan's family issues- Ronan, who by all rights could have been the main character, except that a reader should like the main character, and Ronan isn't someone many people would like. And of course, what becomes of Cabeswater?
There is a kissing scene that is ridiculously well-done. I would love to tell more about why it's so good, but doing so would constitute giving away spoilers, so I won't. If you've read Stiefvater before, you know that she can write a kissing scene well. This particular one is the best she's done. And possibly the most important.
Listen, there are a lot of great YA writers out there. I manage to find a great new read every single week. This series, though, belongs in the top 1% of that great stuff. Maggie Stiefvater is crafting beautiful, artistic work with words. She considers herself a storyteller, but she has developed into so much more.
You must read these books. Get them into your hands.
Nothing living is safe. Nothing dead is to be trusted.
For years, Gansey has been on a quest to find a lost king. One by one, he's drawn others into this quest: Ronan, who steals from dreams; Adam, whose life is no longer his own; Noah, whose life is no longer a lie; and Blue, who loves Gansey… and is certain she is destined to kill him.
Now the endgame has begun. Dreams and nightmares are converging. Love and loss are inseparable. And the quest refuses to be pinned to a path.