Book Review: The Outliers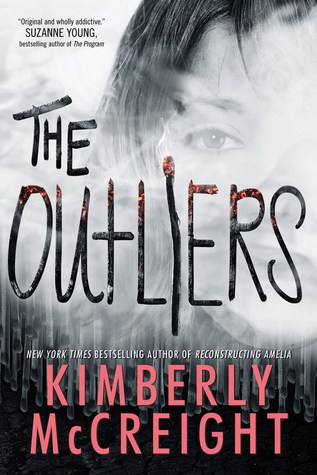 The Outliers
Published by: HarperCollins
Release date: May 3, 2016
Source: hard copy kindly provided by publisher
I am generally a sci fi and fantasy reader, but once in a while it's nice to take a break from that with a fun what-is-going-on-here thriller. The Outliers is a perfect choice for non-stop action and just a hint of sci fi.
I confess that, at one point, I didn't think I was going to like this book. The main character, Wylie, suffers from crippling anxiety at the beginning of the book, and it's developed into agoraphobia. A few pages into the book, she's willing to not only leave her home, but she leaves with a boy she doesn't trust or know very well, and her destination is unknown. Knowing enough about agoraphobia to know that that behavior is inconsistent with the condition, I was irritated. I pushed on, however, and am glad to report that this is eventually resolved and explained- as are a couple of other little quirks.
I am honestly impressed with how well the author keeps track of all of the lies she tells the reader in this book. Misdirection is the name of the game, and McCreight admirably ties up all of the loose ends. All except that last one, which feels very much like a season finale cliffhanger of one of my favorite television series. Speaking of . . . this really would be a great premise for a television show. Someone should take note.
Because much of the plot is based on deception, it's really difficult to write much about the plot without giving away spoilers. At one point you will feel like this is a book about a girl battling a mental illness. At another you will feel like it's a cautionary tale about teens gone wild. It also sometimes-might be a plot-driven tale of a kidnapping. It's all of these things, and more.
It's also obviously just the tip of the iceberg. The last two pages will have you tearing your hair out, dying for a sequel- because at the conclusion of this volume, it's only just begun to get to the good part. A lot of discovery work has been done, and it seems that the real adventure is about to begin.
There may be a point at which you feel that the book is dragging, and you're ready to put it down. Don't. Just don't, because if you do, you will miss one of the best final sequences I've read this year.
It all starts with a text: Please, Wylie, I need your help.
Wylie hasn't heard from Cassie in over a week, not since their last fight. But that doesn't matter. Cassie's in trouble, so Wylie decides to do what she has done so many times before: save her best friend from herself.
This time it's different, though. Instead of telling Wylie where she is, Cassie sends cryptic clues. And instead of having Wylie come by herself, Jasper shows up saying Cassie sent him to help. Trusting the guy who sent Cassie off the rails doesn't feel right, but Wylie has no choice: she has to ignore her gut instinct and go with him.
But figuring out where Cassie is goes from difficult to dangerous, fast. As Wylie and Jasper head farther and farther north into the dense woods of Maine, Wylie struggles to control her growing sense that something is really wrong. What isn't Cassie telling them? And could finding her be only the beginning?