Book Review: Unplugged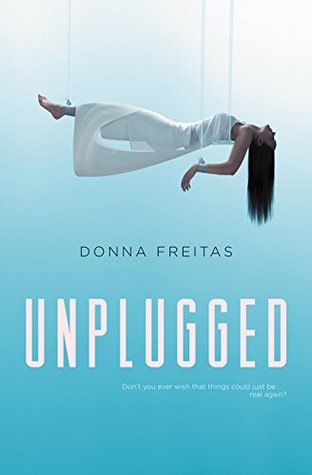 Unplugged
Published by: Harper Children's
Release date: June 21, 2016
Genre: YA science fiction/dystopia
Source: galley kindly provided by publisher
Sometimes Young Adult books are difficult to review. Writers want to tackle Big Themes, create sympathetic characters, build a compelling plot, and add a dollop of romance on top. By the time a science fiction or dystopian element gets added, there is often so much going on that parts of the book begin to suffer under the weight of it all. Unplugged by Donna Freitas is definitely one those difficult books.
Unplugged has big important themes that are the hallmark of good YA literature. In the App World, Skylar has grown up in a voyeur/exhibitionist culture. Everyone it seems is obsessed either with watching the lives of the rich and famous, watching their lives via specialized apps, or becoming one of those that others can "follow." The parallels with our current culture are obvious, and Unplugged successfully demonstrates the tension between voyeur culture and the capacity for personal development within the characters.
On the down side, though, the "science" in this science fiction story is weak. The split between the App World and the Real World is based on a technology ban that is ill-defined and doesn't particularly make sense in the first place. Those in the App World should always be at the mercy of the Real World people if only because the virtual world requires power and presumably some kind of computerized infrastructure to begin with.
Donna Freitas is a decent writer, and the idea at the core of Unplugged is a good one, but the book would have benefitted from better world building and more explicit development of its "science."

The first book in a provocative new series from acclaimed author Donna Freitas—Feed for a new generation.

Humanity is split into the App World and the Real World—an extravagant virtual world for the wealthy and a dying physical world for the poor. Years ago, Skylar Cruz's family sent her to the App World for a chance at a better life.

Now Skye is a nobody, a virtual sixteen-year-old girl without any glamorous effects or expensive downloads to make her stand out in the App World. Yet none of that matters to Skye. All she wants is a chance to unplug and see her mother and sister again.

But when the borders between worlds suddenly close, Skye loses that chance. Desperate to reach her family, Skye risks everything to get back to the physical world. Once she arrives, however, she discovers a much larger, darker reality than the one she remembers.

In the tradition of M. T. Anderson's Feed and Scott Westerfeld's Uglies, Unplugged kicks off a thrilling and timely sci-fi series for teens from an award-winning writer.