Book Review: Scythe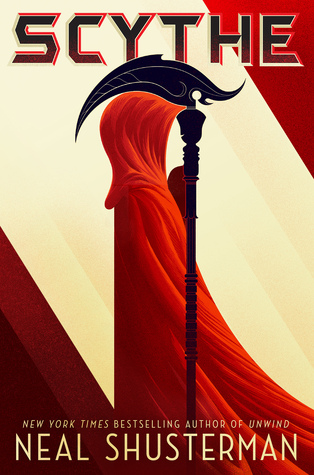 Scythe
Published by: Simon & Schuster Books for Young Readers
Release date: November 22, 2016
Source: Galley kindly provided by publisher
Neal Shusterman wrote one of my favorite YA dystopians of all time, Unwind, so I was super-excited to get my hands on this new offering. I even planned my reading so I could review the book on its release day (though somewhere along the line I got mixed up about the date.) I am so excited to be able to sing the praises of another Shusterman novel, and to encourage readers to get in on the ground floor of what promises to be a fantastic series.
Scythe is set in a dystopian future where humans have conquered disease and death- even those who severely injure themselves can be medically rehabilitated, as is illustrated in an early scene where a kid purposely "splats" from a great height in an attempt to get attention. As this example shows, though, conquering death has not resulted in eradication of all of the problems humans face.
The main characters tell the story in alternating chapters, giving two viewpoints of the same plot. Citra and Rowan have been tapped as Scythe's apprentices, candidates who may eventually take over the job of ending human lives. They learn about their own culture as they learn about the job- and of course, learn about themselves.
I have always favored stories that explore what it is to be human; my favorite novel is Mary Shelley's Frankenstein, for example. Scythe explores many of the same concepts, but through the lens of what it means to no longer struggle with a natural mortality- and what it means to live in a society that encourages and accepts a certain segment of the population purposely ending lives at random. I love the irony that, in Shusterman's world, humans have eliminated death only to find it necessary to create a role for a person to artificially bring death about.
This is one of those books that makes me wish to be a classroom teacher again. This book would spur amazing classroom discussions about ethical and moral questions, and cause students to think in depth about their place in this world. I really hope that some of our readers will pick this up and read it with their own children; it would be an amazing experience.
In a world where disease has been eliminated, the only way to die is to be randomly killed ("gleaned") by professional reapers ("scythes"). Citra and Rowan are teenagers who have been selected to be scythe's apprentices, and—despite wanting nothing to do with the vocation—they must learn the art of killing and come to understand the necessity of what they do.
Only one of them will be chosen as a scythe's apprentice. And when it becomes clear that the winning apprentice's first task will be to glean the loser, Citra and Rowan are pitted against one another in a fight for their lives.