Book Review: Long May She Reign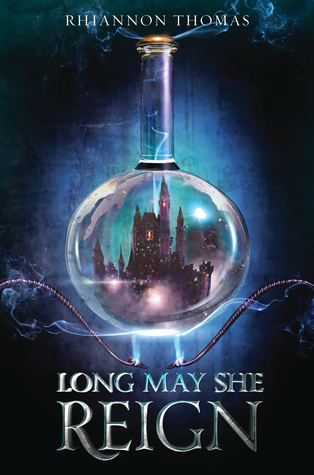 Long May She Reign
Release date: February 21, 2017
Source: Galley kindly provided by publisher

Confession: The blurb mentioned The Girl of Fire and Thorns, and I therefore had to have this book. I sometimes worry that a book won't really compare to the book it's rumored to, but this time I was feeling brave- and it payed off.
The main character, Freya, is about as atypical as a future queen gets. She is not one to pay attention to fashion or hairstyles or gossip. She doesn't particularly enjoy court life, preferring to spend her time researching and conducting scientific experiments. She is, however, a great example of how a strong, smart, independent woman can overcome obstacles to win the day.
This book features a piece of lore that I find particularly interesting: the Forgotten. These beings are ones who lived long ago, and who abandoned the land because people became less and less noble. The Forgotten are said to hold immense power and wisdom, and are thought to be planning to return one day. This reads to me like a hybrid between a dystopian future and a fairy tale. I think Freya's use of the people's knowledge of and belief in the Forgotten in a pivotal plot point would make for some lively and enlightening book talk discussion.
The book is also a murder mystery, of sorts. Freya rightly thinks that finding out who killed most of the court is key to her survival. Despite her lack of experience or training, Freya makes a fair detective. I suspected the culprit, but not the motive. I enjoyed the surprise very much.
There is a love interest for Freya, and that part of the story was all well and good. If you are expecting a swoony romance, this isn't the book for you. If you think that there is more to a young queen than finding someone to kiss, you've found your next read.
The Girl of Fire and Thorns
meets
The Queen of the Tearling
in this thrilling fantasy standalone about one girl's unexpected rise to power.
Freya was never meant be queen. Twenty third in line to the throne, she never dreamed of a life in the palace, and would much rather research in her laboratory than participate in the intrigues of court. However, when an extravagant banquet turns deadly and the king and those closest to him are poisoned, Freya suddenly finds herself on the throne.
Freya may have escaped the massacre, but she is far from safe. The nobles don't respect her, her councillors want to control her, and with the mystery of who killed the king still unsolved, Freya knows that a single mistake could cost her the kingdom – and her life.
Freya is determined to survive, and that means uncovering the murderers herself. Until then, she can't trust anyone. Not her advisors. Not the king's dashing and enigmatic illegitimate son. Not even her own father, who always wanted the best for her, but also wanted more power for himself.
As Freya's enemies close in and her loyalties are tested, she must decide if she is ready to rule and, if so, how far she is willing to go to keep the crown.