Book Review: Frost Like Night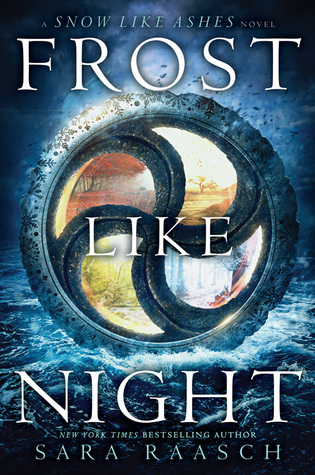 Frost Like Night
Published by: Balzer + Bray
Release date: September 20, 2016
Buy it at Amazon, IndieBound, Book Depository, or Barnes & Noble
Source: Purchased by reviewer
Read my review of book one here.
Read my review of book two here.
I have loved this series from the very beginning, and this final volume didn't disappoint. The plot, character arcs, and completion of the world-building all lead to a grand finale that is long-awaited and perfectly satisfying.
Meira's growth and development over the three-book cycle have been more than enjoyable. She began the series as a nobody, literally and figuratively, and ended as the queen she needs to be- for herself, her kingdom, and her world. Her journey has been extraordinary, and she has become the fine young woman that she always felt that she needed to be.
The magical elements in this book are turned up a notch from the last book. Meira learns so much more about her magic: what it can do, and how she can use it. In understanding her power, she comes to understand herself as well.
I can't tell you what one of the main themes is without giving away the book's ending. I can tell you, though, that it's one of my favorite themes in all of literature, and I think it's a very important concept for young readers to think about. This book is therefore much more than a simple fantasy story: there are opportunities to grow and learn beyond just what's on the surface a fun read.
I have enjoyed this series so much over the years, and will continue to push it into the hands of any willing reader. I hope more readers give it a go. I am so excited to see what Raasch will write next!
Angra is alive, his Decay is spreading—and no one is safe.
Meira will do anything to save her world. With Angra trying to break through her mental defenses, she desperately needs to learn to control her own magic—so when the leader of a mysterious Order from Paisly offers to teach her, she jumps at the chance. But the true solution to stopping the Decay lies in a labyrinth deep beneath the Season Kingdoms. To defeat Angra, Meira will have to enter the labyrinth, destroy the very magic she's learning to control—and make the biggest sacrifice of all.
Mather will do anything to save his queen. He needs to rally the Children of the Thaw, find Meira—and finally tell her how he really feels. But with a plan of attack that leaves no kingdom unscathed and a major betrayal within their ranks, winning the war—and protecting Meira—slips farther and farther out of reach.
Ceridwen will do anything to save her people. Angra had her brother killed, stole her kingdom, and made her a prisoner. But when she's freed by an unexpected ally who reveals a shocking truth behind Summer's slave trade, Ceridwen must take action to save her true love and her kingdom, even if it costs her what little she has left.
As Angra unleashes the Decay on the world, Meira, Mather, and Ceridwen must bring the kingdoms of Primoria together…or lose everything.