Book Review: Sinner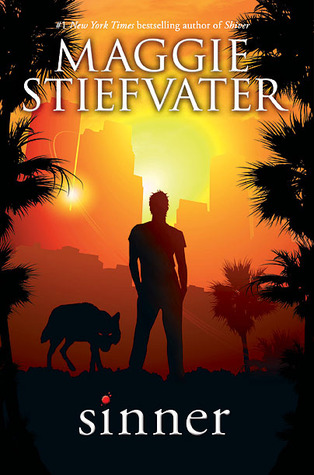 Sinner
Published by: Scholastic Press
Release date: July 1, 2014
Source: purchased by reviewer
True confession: I wasn't in any hurry to read Sinner. I knew I would eventually pick it up because it was a Maggie Stiefvater, and I've loved everything of hers that I've read. I also knew that it featured two characters who weren't my favorite, though, so I didn't hurry. I've changed my mind. I should have hurried.
Maggie took a character who I didn't love and turned him into yet another book boyfriend. I'm a sucker for the broken boys in my books. Cole didn't really show much of his broken-ness before this book. In this one, he is broken six ways to Sunday. He struggles for sobriety just as he struggles to refrain from becoming a wolf; with both, he's working towards being okay with remaining human. Delicious allegory, Maggie.
Maggie's use of voice makes me want to be her when I grow up. Each character is so perfectly distinct and individual, and when they get their turn to tell the story, the reader sees all of the events through their personal lens. All of these huge personalities, when stripped of their public facades, share the same questions about themselves: their worth, their purpose, and whether they have what it takes to persevere.
"Skill isn't what hurts people. A lack of mercy is." ~ page 284
"We were so little, when you took away all our sins." ~ page 316
"What's the way?" Jeremy asks Cole. The old Cole St. Clair always had an answer, probably one that was made up on the spot without hesitation. This new Cole St. Clair, the one who is trying to deserve Isabel's attention, questions whether he knows the answer. He's discovering that it takes real effort to take responsibility for your actions. He's figuring out how to try. He's learning that when it matters, it's no longer acceptable to just roll with the accidents. Thankfully, he also finds out that he's kind of good at it.
Summary:
Sinner follows Cole St. Clair, a pivotal character from the #1 New York Times bestselling Shiver Trilogy. Everybody thinks they know Cole's story. Stardom. Addiction. Downfall. Disappearance. But only a few people know Cole's darkest secret -- his ability to shift into a wolf. One of these people is Isabel. At one point, they may have even loved each other. But that feels like a lifetime ago. Now Cole is back. Back in the spotlight. Back in the danger zone. Back in Isabel's life. Can this sinner be saved?