Book Review: Magonia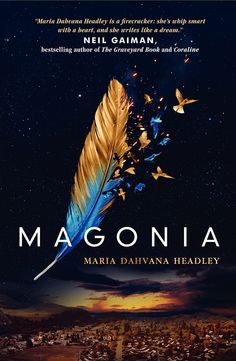 Magonia
By: Maria Dahvana Headley
Published by: HarperCollins
Release date: April 28, 2015
Source: ARC kindly provided by publisher
If you're been reading stuff that seems a little familiar and boring, and you're ready to liven things up, this is the book of the year for you. This book is the gorgeous gold nugget in a pan of sand- it's what you've been looking for.
Magonia is. . . layers. So many gorgeous textures of voice, of interesting use of unusual typeset and imaginative language, of lore that (thank heaven) isn't already overused, of fantasy made new with dashes of sci-fi and contemporary and lovely characterization. It's inventive, it's beautiful, and it's fierce.
Magonia will take you on a journey, far from what you already know. You have to be willing to take the leap in order to fully appreciate the artistry at work, though. Readers who find the unusual nature of the writing and the plot too far out of their comfort zone will struggle; I think this is why a few unfavorable reviews have popped up. This one isn't written in a way that will appeal to just everyone: you have to be ready for the challenge. Taking it on is exceptionally rewarding, though.
Aza as a main character is absolutely perfect for a reader to relate to; she is both native and alien, both in our world and her own. She has a beauty that is deep, both literally and figuratively. She learns of her own power, and she learns of love. She has a brand of humor that is shared with only her best (and arguably, only) friend, Jason. The pair of them are smart, wry, and inseparable. She embodies qualities that are nearly universal, both in what the reader already is, and wishes to be.

It is unusual for me to re-read books. It's downright rare for me to want to re-read a book right after having finished it- but with Magonia, I do. It's only been a few hours, and I already miss this world. Dear author, dear publisher: I must have a sequel. I must.
Summary:
Neil Gaiman's Stardust meets John Green's The Fault in Our Stars in this fantasy about a girl caught between two worlds…two races…and two destinies.
Aza Ray is drowning in thin air.
Since she was a baby, Aza has suffered from a mysterious lung disease that makes it ever harder for her to breathe, to speak—to live.
So when Aza catches a glimpse of a ship in the sky, her family chalks it up to a cruel side effect of her medication. But Aza doesn't think this is a hallucination. She can hear someone on the ship calling her name.
Only her best friend, Jason, listens. Jason, who's always been there. Jason, for whom she might have more-than-friendly feelings. But before Aza can consider that thrilling idea, something goes terribly wrong. Aza is lost to our world—and found, by another. Magonia.
Above the clouds, in a land of trading ships, Aza is not the weak and dying thing she was. In Magonia, she can breathe for the first time. Better, she has immense power—and as she navigates her new life, she discovers that war is coming. Magonia and Earth are on the cusp of a reckoning. And in Aza's hands lies the fate of the whole of humanity—including the boy who loves her. Where do her loyalties lie?