Book Review: The Ship Beyond Time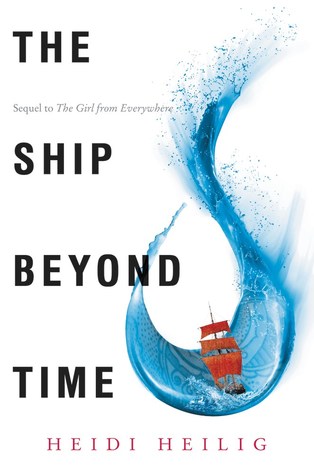 The Ship Beyond Time (The Girl From Everywhere #2)
Published by: Greenwillow Books
Release date: February 28, 2017
Source: Galley kindly provided by publisher
Read my review of book 1 here.
I want my daughters to read this book. Here's why.
Nix is a fabulously flawed, yet strong, main character. She captains a time-traveling ship, and not only does she believe in herself, her entire crew has complete faith in her. And though she has seemingly the entire world and all of time within her grasp, she still grapples with emotions that are completely natural for a girl of her age. It's priceless for YA readers to read a character who has it all together by all outward appearances, and inwardly sometimes feels like a mess.
Nix's love interest has the confidence to show clearly that he is in love with her, but he doesn't try to manipulate to force her into anything she's not ready for. Young readers need to have opportunities to read characters who are respectful and patient in their relationships. In addition to being smokin' hot, that is.
This is fabulously original, well-written fantasy. Real life is difficult for adolescents. Escaping into a world where a teen can pilot a ship into a different space and time is a great healthy temporary distraction. Reading for pleasure fiction that is well-written is so needed, when most of our kids are given reading instruction almost exclusively through non-fiction. They get fewer opportunities in school to see examples of what a good story looks like. This is a good one which deserves a good readership,
Some things should not be stolen.
After what seems like a lifetime of following her father across the globe and through the centuries, Nix has finally taken the helm of their time-traveling ship. Her future—and the horizon—is bright.
Until she learns she is destined to lose the one she loves. To end up like her father: alone, heartbroken.
Unable to face losing Kashmir—best friend, thief, charmer extraordinaire—Nix sails her crew to a mythical utopia to meet a man who promises he can teach her how to manipulate time, to change history. But no place is perfect, not even paradise. And everything is constantly changing on this utopian island, including reality itself.
If Nix can read the ever-shifting tides, perhaps she will finally harness her abilities. Perhaps she can control her destiny, too.
Or perhaps her time will finally run out.